Strategies for Teaching Adult Learners
To be effective in teaching adult learners, it's important to have an understanding of how adults learn.
There has been extensive research conducted on how adults learn. Malcolm Knowles, a well-known expert on adult learning, has developed assumptions and principles regarding adult learners. His basic assumptions have evolved over the years from contributions from others. Below are lists of strategies educators can employ when teaching adults.
Preliminary Strategies – Used to create an effective learning climate and begin the learning process
Teaching Strategies – Used to present information and have learner apply information
General Strategies – Used throughout the learning process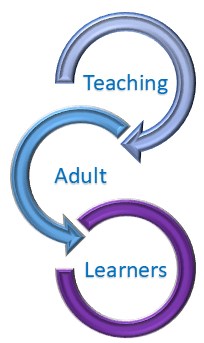 Strategies for Teaching Adult Learners
Preliminary Strategies
Tell the learners how the learning will benefit them
Clearly identify intended learning outcomes
Inform learners of their responsibilities
Empower the learners take responsibility for their learning
Involve learners in planning the learning activities
Set a risk free climate
Provide an environment that is relaxed, safe, and free from intimidation
Foster a spirit of collaboration in the learning setting
Teaching Strategies
Give the big picture first
Use a variety of teaching strategies (visual, auditory, kinesthetic)
Focus on "real world" problems and issues
Create scenarios allowing learners to problem solve
Draw upon learners' experiences as a resource
Relate the material to the learners past experiences
Link new knowledge to previous knowledge
Allow debate and challenge of ideas
Emphasize how learning can be applied
Allow the learners to apply information immediately
Allow learners to practice what they learn
Enable learners to assess their own learning
Provide feedback during the active learning
Allow learners to reflect on their learning
Summarize frequently to increase retention
General Strategies
Allow learners to make decisions to contribute to the learning process
Engage the learning in the learning process – make them active learners
Provide support for self-directed learning
Provide opportunities for dialogue among the group
Treat learners like adults
Make it fun and enjoyable
Listen to and respect the opinions of learners
Related Links
Teaching Strategies for Adult Learners