Professional development goals are plans for learning and development in order to enhance the skills and abilities of an employee.  These types of goals are focused on improving and increasing an individual's capabilities and competencies through access to learning and training opportunities in the workplace. 
About Professional Development Goals 
Professional development goals center on the skills, knowledge, and experiences an employee needs to either remain effective in his or her current role or support him or her as they take on new responsibilities and progresses in their career.
Professional development goals are:
Intended to increase an employee's knowledge or skill set

Focused on plans for learning or enhancing a employee's ability

Directly aligned with the individual's performance goals

Supportive of both current and future job functions

Aligned with career advancement opportunities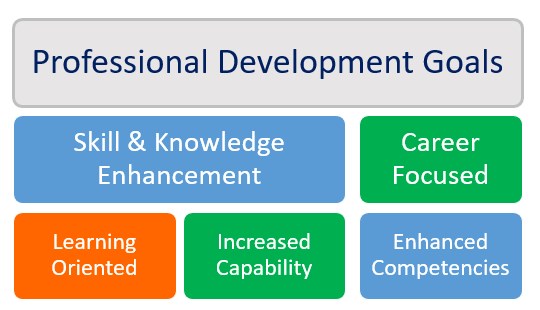 Approaches to Professional Development
There are a variety of approaches to professional development including coaching, mentoring, classroom seminars, online webinars, job sharing, and communities of practice. The format and content will vary to meet the needs of the employee and organization.
Examples of Development Goals 
Attend 5 seminars on Time Management by December 31, 2019.
By April 30, 2019, develop and apply enhanced computer skills to be able to produce timely and accurate budget reports each month thereafter.
Achieve a score of 80 percent or higher on four online leadership courses offered by PPC, by June 30, 2019.
Enhance Conflict Management skills by attending the Peak Skills Workshop sponsored by PPC in by the end of October, 2019.
Complete course work and attain Peak Performance certification to enhance leadership skills by June 30, 2019.
Importance of Commitment to Professional Development
Since development goals focus on learning, which is key to individual and organizational performance, it is essential for organizations to commit to professional development for their employees. 
Commitment to professional development:
increases personal job satisfaction

increases employee motivation

builds and maintains morale of the staff

helps recruit and retain employees