A mission statement is a brief written description of a company's core purpose and focus.
It is usually just a short sentence or paragraph used to explain the company's reason for being in existence.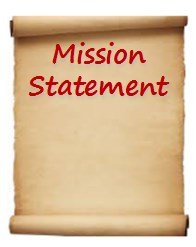 Purpose of a Mission statement
The basic purpose of a mission statement is to inform both the company's employees and the public why the company exists. However, these statements also have three underlying functions:
Ensure that everyone within the organization is on the same page and heading in the same direction.
Create a reference point for strategic management and business planning decisions
Inform potential customers what the company focuses on
Although it articulates the company's purpose to both the organization and the public, it is more important to communicate the mission to employees rather than to potential customers. This is because everything the organization does (at all levels) should revolve around its mission.
Understanding the mission helps employees to remain focused on the tasks at hand and move towards achievement of company's goals. The mission also serves as a guide for the management team in business planning and evaluating strategic decisions. It is essential that the goals and objectives set by the leadership team line up with the organization's mission.
Crafting a Mission Statement
All companies should have a mission statement. Your mission statement should be a clear and succinct representation of your organization's purpose for existence. It should represent the broadest perspective of your company's mission. You should simply and clearly articulate the most important things potential customers and employees should know about the organization.
Typically, it answers the questions;
"What do you do?"
"How do you do it?"
"Why do you do it?"
You want it to be fairly short so everyone involved in the organization is able to express the general principles of the mission.
Examples of Company's Mission Statements
Amazon
To be Earth's most customer centric company; to build a place where people can come to find and discover anything they might want to buy online.
Bristol-Myers Squibb Company
To discover, develop and deliver innovative medicines that help patients prevail over serious diseases.
CVS Corporation
We will be the easiest pharmacy retailer for customers to use.
The Dow Chemical Company
To constantly improve what is essential to human progress by mastering science and technology.
Ford Motor Company
We are a global family with a proud heritage passionately committed to providing personal mobility for people around the world.
Harley-Davidson, Inc
We fulfill dreams through the experience of motorcycling, by providing to motorcyclists and to the general public an expanding line of motorcycles and branded products and services in selected market segments.
Levi Strauss & Co
People love our clothes and trust our company. We will market the most appealing and widely worn casual clothing in the world. We will clothe the world.
NIKE Inc.
To Bring Inspiration and innovation to every athlete in the world.
Starbucks
To inspire and nurture the human spirit – one person, one cup and one neighborhood at a time.
Tesla
Tesla's mission is to accelerate the world's transition to sustainable energy.